NEW EXHIBITION NOW ON VIEW
1ST & 3RD SUNDAY OF EACH MONTH
ST MARTIN'S FIELD
Some History of this public open space and events held there.
NEW ROMNEY COUNTRY FAYRE
Display of pictures and press coverage from 1995 to 2019
This event is celebrating 25 years on 27th July 2019
Who can you spot in these pictures and how times have changed

ROMNEY REVELS AND OTHER COMMUNITY EVENTS
Romney Revels was the forerunner for the Country Fayre. This included a Parade through the High Street and the event actually took place at the Sports Ground in Station Road.
Do visit this new Summer Exhibition
PLANT SALE OF 4TH MAY
The Plant Sale was a huge success. Our thanks to all those who provided the plants, those who came along to support the event and not forgetting all those who helped on the day. There were some fabulous cakes and we thank Denise and all her cake makers, as well as those who helped her at the event.

Many thanks to everyone for their support of our event The money raised will go towards the upkeep of this wonderful old building.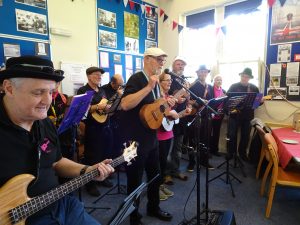 TIME EVENT Friday 22nd November 2019
More information will follow