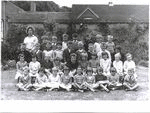 In 1992 the New Romney Town Mayor, Councillor Mrs A. S. Alderton, called a public meeting to listen to the views of all those who were concerned by the rapid deterioration of the Old School building. Over sixty local people, many of whom were former pupils of the school, attended the meeting together with representatives of Shepway District Council who at that time owned the freehold. In 1993, in response to this concern, New Romney Old School Trust was formed, and in 1995 it obtained charitable status .
The aims and purpose of the Trust were to refurbish, maintain and utilise an important redundant Victorian school building set in a conservation area in the ancient Cinque Port Town of New Romney and within the shadow of the Norman Church. It was hoped that the Old School would become a focal point for community use by residents and visitors alike.
In February 1996 the Trust was granted planning permission for the restoration of the Old School and in March the Department of the Environment gave consent for Shepway District Council to dispose of the Old School for £1. The market value had been agreed at £17,000. Total estimate for the restoration work was £360,000.
Initially progress was slow. Kent County Council Library Service decided not to relocate from their High Street premises to The Old School and Romney Resource Centre, having expressed a keen interest and influenced the internal design, pulled out of their commitment at the very last minute.
In addition an application to the Millennium Commission was rejected the day before the announcement of successful projects to be funded. A further application to The Heritage Lottery Fund was successful and with major financial support from The New Romney Institute Trust, local fund raising and many other sources, the total amount was raised and work commenced in 1998.
The Old School has been restored to provide one large room and one medium size room for community and group use.
Records and artefacts relating to The Old School and the Cinque Port Town of New Romney are displayed throughout the building and The Old School is open to the public on the 1st and 3rd Sundays in the month from 2 – 4.30pm.
The garden is an attractive and popular setting for wedding parties as a backdrop for their photographs.
Copies of our DVD "The History of the Old School" are available at £4.95.  Please contact Pat Goodsell.  Tel:  01797 458200